Maui might be most famous for its snorkeling and surfing, but kayaking is another water sport that comes to life on the island.
From a kayak, you have a new perspective on both the unique landscape of Maui, and the treasures beneath the waves. 
Take a look at this guide for everything you need to know about kayaking Maui!
Can You Kayak On Maui?
Yes, you can kayak on Maui, and it's a very popular hobby. Kayaking is an excellent way to explore the waters of Maui, from the reefs and corals to the turtles and humpback whales.
Kayaking is also a new way to take in the natural landscape of Maui.
From the water, you can really appreciate how a combination of how erosion and volcanoes shaped the island.
The Best Kayaking Destinations On Maui
Makena Landing
Makena Landing combines three incredible features to make for an excellent kayak destination.
First, the waters are incredibly clear, and rich with wildlife.
Second, the landscape of this area is rugged and natural, perfectly viewed from the sea.
And finally, the gentle slope of the beach, plus the easy access from the road, makes launching smooth.
Makena Landing is home to one of the most accessible reefs on Maui, and if you plan on kayaking, we recommend packing the snorkel gear as well!
The large and shallow bay is a good place for kayaking beginners, but be careful if heading further out, as the breeze can get strong. 
Honolua Bay
Popular with snorkelers, divers, and surfers, Honolua Bay is one of the most interesting parts of West Maui. It's also a draw for kayaking, as Honolua Bay is set in a marine preservation district and is teeming with underwater life.
You might even get to glide through the water alongside spinner dolphins! Follow the coast around to Slaughterhouse Beach, for a spectacular trip.
The waters at Honolua Bay are only safe for kayaking in summer. During winter, the currents are too strong. Even in summer, this is an area suited for those with experience in a kayak, as you can expect to battle a breeze.
Maluaka Beach (Turtle Town)
It's pretty obvious from the name why you might want to kayak at Maluaka Beach, otherwise known as Turtle Town.
This spot is a haven for the Hawaiian honu, and scores of the turtle are frequently spotted in the area. From a kayak, you can discover the elegant movements of the honu underwater. Or, hop in and go snorkeling with the turtles. 
Maluaka Beach, South Maui, is known as a mellow place to kayak, with quiet morning winds leading to glassy waters. Make sure to take your camera, as you'll want to snap photos of every turtle you can spot.
Olowalu
With a unique and remarkable reef system, kayaking at Olowalu comes highly recommended. The clear waters provide a close view of a diverse array of corals, and you can even spot a turtle cleaning station.
Just south of Lahaina, Olowalu encompasses a long section of coast, and has easy road access for launches. Strong currents make Olowalu an area best for those with kayak experience. But know that there are pros and cons to snorkeling. 
It's also best explored with a guide: the reef is complex, and navigating through the minimal paths is difficult. A guided tour ensures you won't damage the delicate corals.
Hanakao'o Beach Park
A short walk from Ka'anapali Beach, Hanakao'o Beach Park is a popular kayak launching spot with the locals. It doesn't have quite the epic views and reefs of other destinations, but the ease of launch makes up for it.
If you want to get the entire family in the water learning how to steer a kayak, it's a great place to start.
Tours rarely run out of Hanakao'o Beach Park, and it doesn't attract a lot of tourists. On a weekday morning, Hanakao'o can be quiet while other kayak launch sites are crowded.
On the weekends, locals enjoy exploring Hanakao'o.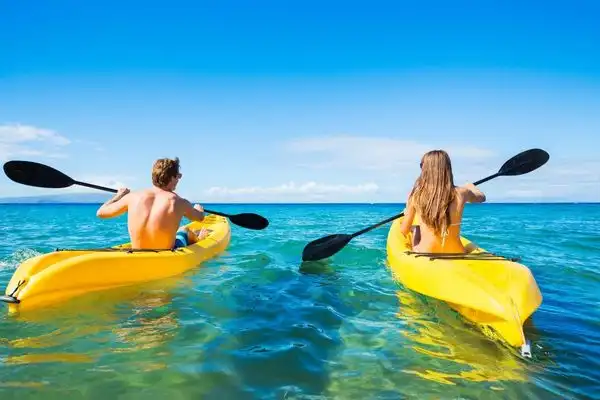 Kayak Tours On Maui
While you can rent a kayak and explore the waters of Maui by yourself, a kayak tour is often the best way to enjoy the water sport. Kayak tours are offered at most of the major launch sites, and these group excursions are a fun way to spend a morning.
The major benefit of a kayak tour is you get the knowledge and experience of a local.
Not only will they know the best time to visit, but also the best places to go, and point out sights you might have missed on your own. 
Maui Kayak Tour Operators To Consider Include:
If a tour isn't right for you, you can also rent kayak gear on Maui!
When Is The Best Time To Kayak On Maui?
Early mornings are the best time to kayak on Maui. This is when the currents are calmer, and the seas are clearer. Set out as early as possible to beat both the breeze and the crowds. Most kayak tours will take place in the morning.
You can kayak throughout the year on Maui, but the summer is better for calm seas, and winter is best if you want to spot humpback whales.
The humpback whales visit West and South Maui between December and March, and although it might require some extra paddling, seeing a whale breach from the water is worth the arm ache.
However, heavier winds also visit Maui over winter, which can affect water quality.
Expect more days with adverse conditions, and a harder paddle when you do get out. Some areas, such as Honolua Bay, aren't safe for kayaking over winter. 
Final Thoughts
An early morning kayak is an excellent way to start the day, with clear seas opening up to reveal a wonder of underwater life.
Maui has areas suitable for those kayaking for the first time, and those who are experts in the water.
We recommend booking a tour—it's the best way to discover all the secrets of the Maui coast.