The honu, or green sea turtle, is an emblem of Maui, and these curious creatures are permanent residents of the island.
Watching a sea turtle swim through the water is an amazing experience, but snorkeling alongside them might be even better.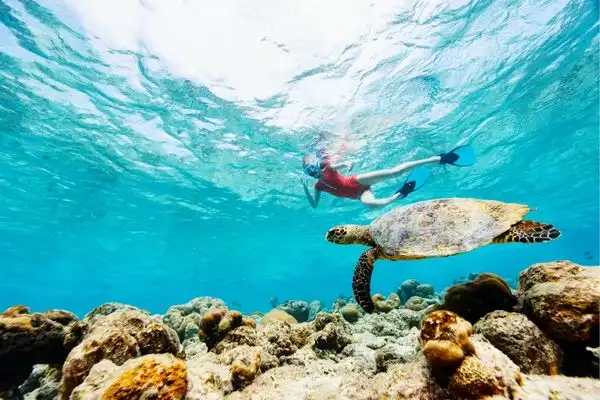 Can You Snorkel With Turtles On Maui?
Yes, you can snorkel with turtles on Maui, and these marine animals are one of the major draws for snorkelers who want to swim with turtles.
Turtles can be spotted across Maui, and are frequent visitors to beaches and coastal pathways. They're also common at most major snorkel sites!
It's essential that if you snorkel with a turtle, you do so with care. The Hawaiian green sea turtle is protected by federal law, and can't be harmed in any way. This means turtles can't be touched, and shouldn't be approached.
What Types Of Turtles Are Found On Maui?
There are five types of turtles found on Maui, but the most common is the Hawaiian green sea turtle. These are native to the Hawaiian islands, and are known as honu in the Hawaiian language. Honu are hard shelled and can be seen both in the water, and on land.
The hawksbill sea turtle is another turtle native to Hawaii, although less common than the green sea turtle. They're mostly spotted on the Big Island, although a few make their way to Maui.
Olive ridley turtles, leatherback turtles, and loggerhead turtles can also be spotted in the waters of Maui, although these sightings are incredibly rare!
The Best Places To Snorkel With Turtles On Maui
Maluaka Beach (Turtle Town)
Maluaka Beach is one of the most famous turtle spotting beaches on Maui, and for good reason.
Turtle sightings are incredibly frequent at this South Maui location, and enough of them visit to have earned the beach the nickname "Turtle Town". Head to the south end of the beach, for the best chance to see a turtle (or two).
Maluaka Beach is also a popular tour destination. Book a tour for an excellent opportunity to snorkel with turtles. 
Honolua Bay
On Northwest Maui, Honolua Bay is a protected marine environment, which means it is rich with underwater life. Expect to find fish and corals, as well as the Hawaiian honu.
The best snorkel spots are to the left side of the bay, away from the shoreline. Strong swimmers can follow the coast around to Slaughterhouse Beach, which is also a popular place for snorkeling with turtles.
Honolua Bay is known for calm and clear seas in the summer, and heavy winds in the winter. Snorkeling is only suitable in the summer.
Black Rock
Overlooking Ka'anapali Beach, Black Rock is an ancient lava flow that has become a top destination for snorkeling with turtles.
With a sandy entry and plenty of nearby amenities, Black Rock is a convenient place to snorkel, particularly for those staying in West Maui.
Watch out for the currents, which can be strong even in the morning.
Olowalu
Olowalu is known for its incredible reef system, which is complex, diverse, and easy to access. It also attracts turtles, which can be spotted enjoying the clear waters of Olowalu.
The waters here are shallow, excellent for those who are new to snorkeling, and the visibility is impressive. Watch out for the reef as you snorkel at Olowalu.
There are several paths leading through the reef, and they should be closely followed to avoid damaging the wildlife. 
Staying Safe While Snorkeling With Turtles
It can be very exciting when you see a wild turtle for the first time, especially if it's swimming alongside you.
However, these are a threatened species, and we have to be careful around them.
Here Are A Few Tips For Snorkeling Safely:
Try and keep 6 to 10 feet between you and the turtle at all times.
Never touch a turtle.
Never feed a turtle.
Be respectful, and avoid disturbing the turtles as they go about their business. Avoid loud noises and general rowdy behavior. 
Clear away any litter, and don't leave trash on the beach. 
What Is The Best Time Of Year To See Turtles On Maui?
Unlike many types of turtle, the Hawaiian green sea turtle is not a seasonal visitor. It sticks to the warm waters of Hawaii throughout the year, never venturing far from its chosen residence.
While many marine visitors to Maui, such as the humpback whale, only grace the waters for a few months of the year, the honu is there from January to December.
With that said, it's easier to snorkel with turtles during summer.
This isn't necessarily because the turtles are more abundant, but because the waters are calmer, making for better snorkel conditions.
You can still snorkel with turtles over winter, you just might have a reduced opportunity to do so.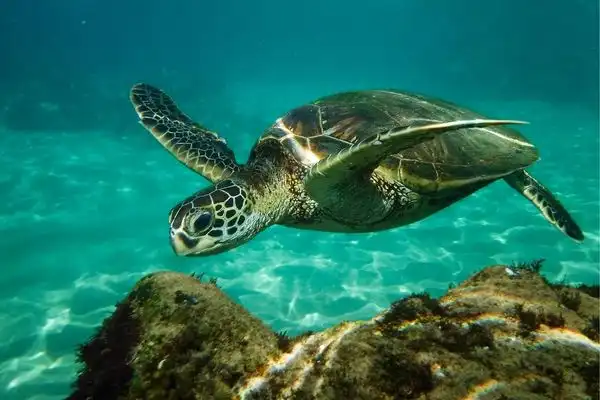 When Is The Best Time Of Day To See Turtles On Maui?
Turtles like calm seas and sunshine, so you're more likely to see them from the morning to the mid afternoon.
If you want to snorkel with turtles, the best time is early morning. This is when the seas are at their calmest, making them safer, and improving the visibility. 
Am I Guaranteed To Snorkel With Turtles On Maui?
Turtles are wild creatures, and there's no guarantee your snorkel sighting trip will be successful. Even a place such as Turtle Town, which is incredibly popular with the honu, isn't always teeming with turtles.
It's best to go with an open mind, and enjoy whatever you can spot while snorkeling.
Of course, the wild nature of turtles can work in your favor! You might find a long snorkel at Honolua Bay is turtle free, and then see several of them during a morning swim at Wailea Beach.
Snorkel Tours
If you want the chance to snorkel with turtles, but you've never been snorkeling before, consider booking a tour.
Tours frequently run to Turtle Town, and helpful instructors will ensure you have the best experience possible.
Final Thoughts
Although you can't guarantee a turtle sighting on Maui, the chances are high if you choose the right places to snorkel!
We hope this guide will help you have the turtle experience of your dreams.