Looking for a way to enjoy Maui on a budget? Hostels are an excellent choice for travelers who like to get out and about, and want a comfortable room and a chance to make friends. 
Maui's North Shore is known for having a welcoming vibe that buzzes with life and offers impressive conveniences.
Find a North Shore hostel stay with our guide.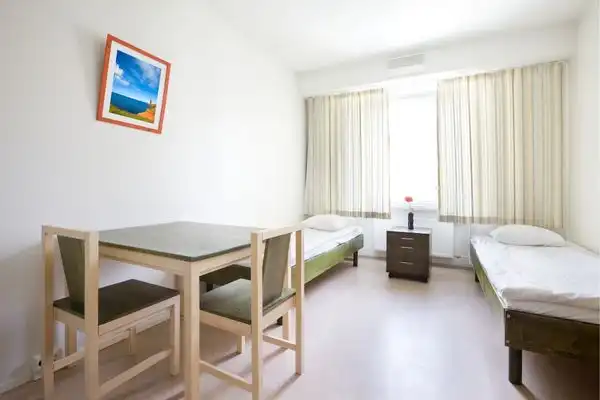 Howzit Hostel
A stay at Howzit Hostel is designed to connect you with a group of like minded travelers. Located in Wailuku, Howzit Hostel was formerly known as Northshore Hostel, and it had built up quite a reputation among budget-conscious tourists!
A little distant from the beach, Howzit Hostel soaks up the buzzing atmosphere of Wailuku.
Frequent activities are organized by the hostel, including driving the Road to Hana, snorkeling tips, and West Maui hikes. And you can make sure everyone back home can see just how great a time you're having, as free Wi-Fi is available throughout the property. 
Howzit Hostel Rooms
The Howzit Hostel has a private room and private suite, plus a private 4-person room. For travelers on a budget, the Howzit Hostel offers 4 and 8 bed mixed dorms, plus a 4 bed female-only dorm.
The dorms are simple, and very basic, but comfortable. This is a budget-friendly hostel, and no money has been wasted on decoration. 
Dorm rooms are only available for guests over 18, and no children under 12 are allowed to stay at Howzit Hostel. 
Howzit Hostel Communal Areas
The Howzit Hostel has a kitchen open for guests, with a stove, oven, refrigerators, and pantry. Not much of a chef? Howzit Hostel also serves breakfast pancakes (plus coffee and tea) every morning.
The bathrooms are also communal: three all-gender bathrooms with shower, toilet, and sink, and one female-only bathroom with two of everything. The Private Suite is the only room with a private bathroom.
A large open lobby greets guests in the morning, offering a comfortable space to relax and make friends. Again, the décor is simple, but you probably won't care.
And the massive backyard makes up for a pared back lobby. Picnic style benches sit beneath an impressive banyan tree, where you can enjoy free margaritas in the evening. 
Aloha Surf Hostel
Aloha Surf Hostel enjoys the same laid back charm that characterizes Paia, a North Shore town which is world famous for its surf conditions. Within walking distance of all the best bits of Paia, including those incredible beaches, Aloha Surf Hostel is the place to stay for water sports fanatics. 
An easy distance from both Kanaha Beach and Ho'okipa Beach, Aloha Surf Hostel provides a place to relax after a day enjoying the swells.
Throughout the week, they also offer tours across Maui, including hikes and beach trips.  Want to make your own plans? Aloha Surf Hostel also has free parking, for your rental car.
Or you can relax around the hostel and enjoy the free pancake breakfast and the free Wi-Fi.
Aloha Surf Hostel Rooms
Aloha Surf Hostel offers both dorm rooms and private rooms. Private rooms are available as single, double, and triple rooms. The dorm rooms are available as both mixed dorms and female-only dorms. 
This is very much a no-frills hostel, and the rooms are incredibly basic. They also aren't particularly large, although you should feel comfortable in the space.
The shared dorms definitely feel like a place to sleep at the end of a long day, rather than somewhere you spend a vacation relaxing. The private rooms are a little more homey, but, again, this is a budget hostel designed for falling asleep.
Aloha Surf Hostel Communal Areas
Connect with other travelers while enjoying a free pancake breakfast at the Aloha Surf Hostel, or try whipping up your own meals on the barbecue grills outside. The lobby is spacious, and the backyard offers plenty of room to relax, and to get to know your fellow guests.
And then it's right into the hot tub! The Aloha Surf Hostel also has a pool table and ping pong table.
Although set back a little bit from the beach, Aloha Surf Hostel definitely leans into the beach vibe with the décor. It's fun, friendly, and helps distinguish Aloha Surf Hostel from your generic hotel stay.
Banana Bungalow Maui Hostel
Banana Bungalow Maui Hostel is the kind of hostel where even solo travelers feel like part of a group. Located in friendly Wailuku, the Banana Bungalow Maui Hostel provides comfortable accommodation for those who want to explore all that Maui has to offer.
The daily tours are a real highlight of the Banana Bungalow Hostel, with tours offered throughout the week. The hostel has two large vans, allowing even more guests to enjoy the adventure.
These tours cover much of West and South Maui, and include a trip up Haleakala!
Banana Bungalow Maui Hostel Rooms
There are four room types to choose from at Banana Bungalow Maui Hostel: 6 bed dorm, 4 bed dorm, a twin room, and a private room.
The rooms are airy and comfortable, but definitely designed for travelers on a budget. 
Banana Bungalow Maui Hostel Communal Areas
One of the real highlights of Banana Bungalow Maui Hostel is the large tropical garden that's open for guest use. Featuring picnic tables and hammocks set among the lush and green gardens, you'll enjoy relaxing under the Maui sunshine, or enjoying a Banana Bungalow Friday keg party.
There's also a barbecue grill, which guests are welcome to use. Banana Bungalows Maui also has a seven-person jacuzzi hot-tub!
Indoors, there is a large shared kitchen featuring two gas cooktops and three refrigerators. Guests can also enjoy a make-your-own pancake breakfast. A pool table, ping pong table, foosball table, and dartboard are also available for guests.
Final Thoughts
Hostels are an excellent way to discover Maui on a budget, and on the North Shore, these hostels are well located for exploring.
The shops and restaurants of Wailuku offer excellent convenience for budget travelers, while the North Shore beaches are a surfers' paradise.