Planning a trip to Maui? Ka'anapali is one of the island's best known resort towns. But perhaps Kapalua, just a short drive up the coast, has caught your eye?
Despite their proximity, these Maui destinations offer distinctly different atmospheres. While Ka'anapali is all about family-friendly fun, Kapalua is infused with a chilled out romance.
In this guide, we'll take a look at what you can expect from a vacation to Ka'anapali or Kapalua, and help you choose the right destination.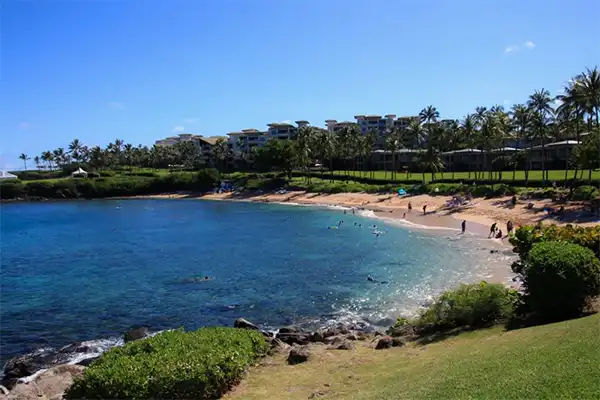 All About Kapalua
Kapalua is a popular Maui resort town that backs onto lush green hills, and fronts a sparkling coastline. Sitting on the northwest coast, Kapalua is a peaceful bay area with more than a hint of luxury.
Upscale hotels such as the Ritz-Carlton can be found in Kapalua, for those who want to escape the crowds of Wailea without sacrificing any of the comfort. 
Kapalua complements the natural Maui landscape with quality dining and accommodation. Oh, and it's also home to a world-famous golf course.
Things To Do In Kapalua
Kapalua combines a chilled out attitude with attractive scenery and quality resorts. Some of the best things to do in Kapalua are:
Play a round of golf. The PGA Tour's Tournament of champions is held at the Plantation Course every January.
Kapalua Coastal Trail. Hike the coastal trail, which encompasses some of Maui's natural wonders.
Sansei Seafood Restaurant & Sushi Bar. Exceptional sushi, and a Maui institution. 
Kapalua Wine and Food Festival. Traditionally held in June, the festival is an elite dining experience.
Where Is Kapalua?
Kapalua is on Northwest Maui, just to the north of Napili Bay.
The weather in Kapalua is slightly colder than southern resorts such as Kihei and Lahaina, and you can expect a few more rain showers over the winter months.
It also has a tendency to catch the wind, making it a popular destination with surfers and bodyboarders.
All About Ka'anapali
Ka'anapali is most famous for its beach, which has been recognized as one of the best in America. Long and sandy, with easy access waters and beginner's snorkeling, Ka'anapali Beach is a family-friendly highlight on the West Maui coast.
Ka'anapali is hugely popular among travelers with young children, thanks to a wealth of resorts and endless entertainment.
Once known as a favored destination of Hawaiian royalty, Ka'anapali is still a top choice for visitors to Maui.
Things To Do In Ka'anapali
One reason for the popularity of Ka'anapali is the wealth of entertainment available. Not only is Ka'anapali full of things to do, but it's an excellent base for exploring all that Maui has to offer.
Whalers Village Shopping Center. An open air shopping center with restaurants and entertainment.
Black Rock Cliff Diving Ceremony. Watch a recreation of a royal cliff dive, every evening at Black Rock Beach.
Golf. The Royal Ka'anapali and Ka'anapali Kai are championship level golf courses.
Skyline Hawaii Zipline Tour. Discover Ka'anapali from a new (and only slightly terrifying) angle.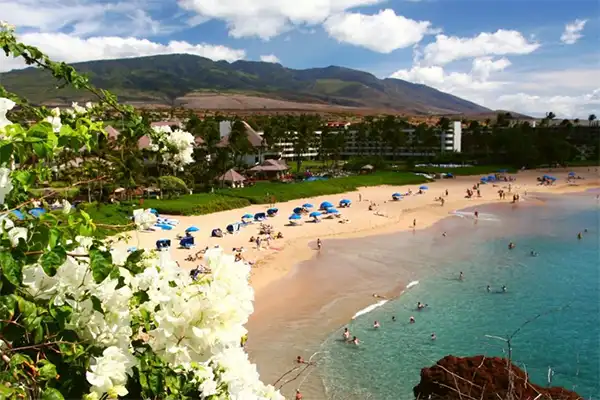 Where Is Ka'anapali?
Ka'anapali is on West Maui, just north of famous Lahaina town. Located close to the center of the western coast, Ka'anapali has excellent access both to the beaches of the north, and the shops and restaurants further south.
It also backs onto the West Maui mountains, for those who like to explore. Although rain and wind are more likely over winter, Ka'anapali gets sunny weather year round. 
Which Is Closer To The Airport, Kapalua Or Ka'anapali?
Ka'anapali is roughly 50 minutes drive from Kahului international airport, and many shuttles and taxis service the area.
Kapalua is slightly further away, but there isn't much difference. Expect a shuttle to Kapalua to take around one hour. Both destinations have to deal with the tricky Lahaina traffic.
As Ka'anapali has more resorts and condos, shuttle services tend to be more frequent, but many of these services will also make the trip to Kapalua. And if you're flying in from another island, Kapalua has its own small airport. 
Does Kapalua Or Ka'anapali Have Better Beaches?
Both Kapalua and Ka'anapali are home to beaches that are literally award-winning, so you can expect a pretty fantastic coastline whichever destination you choose. 
Ka'anapali is home to Ka'anapali beach, a long and almost unbroken coastline that fronts many of the resorts and condos.
As well as being a good area to swim, Ka'anapali beach has some beginner-friendly snorkeling, where you might catch a glimpse of a Hawaiian sea turtle.
It's also home to some of the better cliff diving areas, as the lava cliffs at Black Rock Beach offer numerous jumping off points. 
Kapalua Bay Beach is smaller and quieter, with a curving crescent of sand tucked between two outreaches of lava rock.
With a sheltered break and plenty of marine life occupying the rocky edges, Kapalua Bay is loved by snorkelers.
It's also known as a place to take some excellent beach photos, thanks to the waving palm trees and blue seas.
Although Kapalua doesn't have the size of Ka'anapali, there's easy access to multiple beaches, such as D.T Fleming and Oneloa Bay. 
Is Kapalua Or Ka'anapali Better For Families?
If you plan on traveling with the little ones, Ka'anapali is the obvious choice. This resort town was designed to attract families, with numerous resorts catering to parents and children.
Ka'anapali Beach is perfect for water activities, and nearby Whaler's Village means keiki can be kept occupied when rain showers hit.
Kapalua doesn't cater to families quite so closely, and the gentle romanticism of the quiet coast is perhaps better suited to couples. But if families do want to stay in Kapalua, the Montage Resort has a pretty epic kid's club.
Family Convenience Or Quiet Romance
Despite being only a short drive from each other, Ka'anapali and Kapalua embody different atmospheres. Ka'anapali is a resort town built to cater to tourists, with activities and accommodation aimed at families in particular.
Kapalua is quieter, and the upscale destination houses luxury resorts. The good news is, with just a short drive between them, visitors get to enjoy the award-winning beaches of both.