Dreaming of a Maui getaway? Then you might find you have more in common with celebrities than you think! Maui is home to multiple luxury resorts that attract celebrity visitors to the tropical destination.
If you're hoping to rub shoulders with the rich and famous on Maui, then there are a few resorts we recommend trying. From the Ritz-Carlton in Kapalua to the Four Seasons in Wailea, these are resorts that combine elegant luxury with breathtaking natural beauty.
Read on to find all the best celebrity haunts on Maui.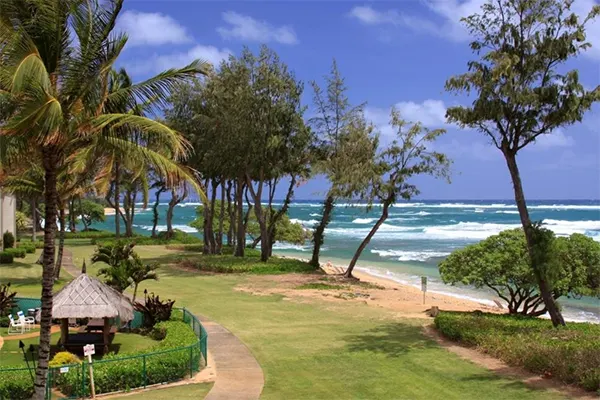 West Maui
The Ritz Carlton in Kapalua
West Maui isn't quite the same celebrity draw as Wailea in South Maui, but more than a few famous faces have passed through the Ritz-Carlton in Kapalua.
Ashley Tisdale is one of the few celebrities to tweet about her stay there, but we suspect other famous vacationers have kept their visit quiet. Kapalua is a charming destination, with a quieter atmosphere than much of West Maui. Perfect for celebrities looking for privacy, and visitors hoping for serenity.
If you decide to stay at the Kapalua Ritz Carlton, you absolutely must try your hand at golf.
The famous Plantation and Bay courses in Kapalua have been home to numerous tournaments over the years and hosted the likes of golf superstars such as Tiger Woods. Each January, the PGA Tournament of Champions is played at the Plantation course. 
But it isn't just golf that makes the Ritz Carlton so spectacular. Multiple dining options, seasonal spa choices, and a spectacular beach are all attractive to the rich, famous, and everyone else. 
Wailea And Makena
Grand Wailea Resort Hotel and Spa
Celebrities such as Jennifer Aniston, Nicole Richie, and Nicole Kidman have all enjoyed a stay at the Grand Wailea, a Waldorf Astoria Resort. The hotel itself even has a claim to fame—it was the setting for the 2011 film Just Go With It!
Famous and non-famous families alike will enjoy taking their children to the Grand Wailea. The centerpiece of the hotel is an incredible Canyon Activity pool, complete with a lazy river, water elevator, rope swings, and several waterfalls.
And if you need a quieter moment to yourself, then the adults-only Hibiscus pool offers some serenity away from the hectic main area.
The pet-friendly Grand Wailea is located on Wailea beach, at the opposite end from the Four Seasons Maui—another celebrity draw. And if you want to immerse yourself in Hawaiian culture, the Grand Wailea Luau is a must-see.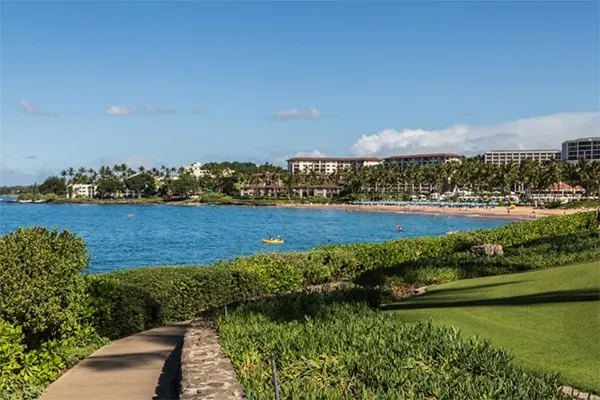 Wailea Beach Resort
One of the few Wailea resorts not set directly on the beach, the Wailea Beach Resort by Marriott is still only a walk away from the sand and sparkling sea. Which was lucky for Lindsay Lohan when she visited the resort in 2009 and tried her hand at surfing.
Although surfing wasn't in her skill set, we're sure she still enjoyed her time at this attractive upscale resort.
For those who find the lapping sounds of ocean spray calming, the Wailea Beach Resort is sure to grant you a wonderful night's sleep.
Their rooms are the closest guest rooms to water in Wailea, with the sound of surfing adding a gentle backdrop to the modern and sophisticated rooms. Enjoy a stop at the spa overlooking Molokini crater, or a dip in one of the 5 spectacular pools.
Any celebrity hunter will have to find time to visit the golf course. They're among the best in the world and have played host to international tournaments as well as celebrity players. 
The Four Seasons Resort Maui
When most people think of luxury hotels, the Four Seasons is one of the first to come to mind. So it's no surprise that the opulent chain has a Wailea location that attracts all the biggest celebrities. Arnold Schwarzenegger, Oprah, and Sandra Oh have all spent time at the Four Seasons Maui.
As you enter the Four Seasons at Maui, you're instantly immersed in a world of elegance. The spectacular white fountain pool frames a vista that's picture-perfect, ringed by trees fluttering with the Maui breeze.
Rooms are a fantastic 600 square feet at minimum, and that's not including the lanai. World-class dining greets you at Wolfgang Puck's Spago restaurant, serving Hawaiian and California fusion food alongside ocean views.
And don't forget to try the spa! You'll need a relaxing traditional treatment after a day spent on one of the Four Seasons whale watching and snorkel tours.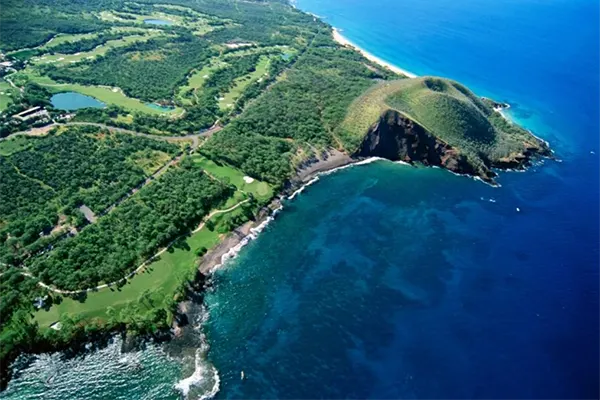 Makena
Makena is a nature reserve, and so doesn't have the same kind of development as nearby Wailea.
But what it does have are smaller properties with celebrity owners—think rock legend Steven Tyler. If you want a chance to stay in Makena, there are a few rental properties available near the untouched coast.
North Shore
Paia
Paia is a charming town that's popular with hippies and surfers. A strong artistic community has filled the shops with handmade goods and exciting artworks, while the waves that catch this windward town create massive surf for sporting adventure.
You won't find luxury resorts attracting the rich and famous, but you will find a fair few celebrities that call Paia home. For a chance to glimpse north shore resident Willie Nelson or Owen Wilson, we recommend a stay at the Paia Inn.
Are You Likely To See Celebrities On Maui?
With opulent resorts, breathtaking scenery, and cozy secluded spots, it's no wonder Maui attracts plenty of famous visitors. You might be able to spot a few of them as you sunbathe on Wailea beach, or enjoy a meander around the coves of Makena.
However, don't expect the locals to offer tours of the star's houses. Maui is very protective of its celebrity visitors, and especially its famous long term residents.
There are even laws to prevent paparazzi from taking photos—it's known as the Steven Tyler Act, after the Aerosmith singer and long-term Maui resident.
So, you can keep a respectful eye out, and maybe even get a chance to say "hello" to Maui's celebrity visitors. But try not to stop and gawp if you see Willie Nelson in a Paia grocery store.