It's hard to resist the call of sparkling turquoise seas, but on Maui, you often find your relaxing swim turns into a splash among the swells. Or a struggle to dodge the reefs!
Wondering which Maui beaches are best for swimming? We've got you sorted! Check out our list, and swim the day away.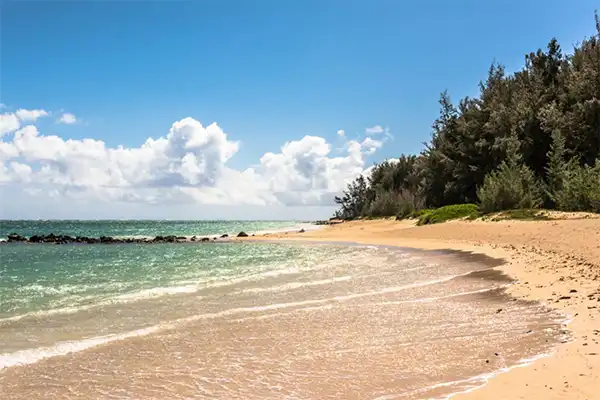 West Maui Swimming Beaches
Ka'anapali Beach
Ka'anapali Beach is an exceptional resort beach on West Maui, and one of the best places to swim. It's very popular with families, and not just because of the family-friendly resorts that border the sand.
In the morning, Ka'anapali Beach is incredibly calm, with excellent snorkeling around the rocky edges. But even as the afternoon sets in, Ka'anapali Beach avoids the worst of the swells. 
Kahekili Beach Park
Tucked at the north end of Ka'anapali, Kahekili is typically the quietest of the resort beaches along this strip.
Visitors who don't swing by Kahekili Beach Park are missing out on a gorgeous beach with all the convenience you expect from Ka'anapali.
Kahekili Beach Park is better for snorkeling, as the reef comes right to the shore. But gentle conditions make swimming enjoyable, and if you keep an eye out for the reef, Kahekili is good for a splash about.
Napili Bay Beach
Napili Bay Beach is a gem to the north of West Maui, with a consistently gentle break and crystal clear seas.
It's also a pretty chilled out beach, as it isn't backed by large resorts. Instead, the vacation condominiums in the area tend to attract people looking for some peace and quiet.
They can find that and more on Napili Bay Beach, where calm turquoise waves lap onto a soft sand shore.
Kapalua Bay Beach
The reaching crescent of Kapalua Bay protects the beach from the worst of the currents, creating a sea area with the calm of a swimming pool. But unlike a swimming pool, Kapalua Bay is rich with marine life.
Kapalua Bay Beach is excellent for swimming, snorkeling, and diving, plus just lying on the beach and enjoying the view. It can get busy, but that's to be expected in a beach this lovely. 
South Maui Swimming Beaches
Kamaole Beach I & II
The Kamaole Beach Park occupies a significant stretch of the South Maui coastline, and has varying sea conditions along each beach.
For swimmers, the best place to head is Kamaole I, known as Kam I. Long and sandy, the quiet waves of Kam I are great for stretching out in.
Kam II also has good swimming conditions, but the smaller beach appeals more to snorkelers.
Wailea Beach
Wailea Beach is practically a perfect resort beach. Cushion-soft sand is lapped by a sparkling sea, and there are plenty of facilities for families.
Snorkeling, boogie boarding, swimming, Wailea Beach really does have it all.
It also has a big crowd, basically all the time! Good for people watching, not so good for space. If you want to swim laps, head to Wailea Beach as early as possible.
Palauea Beach
With the beach itself hidden from the road, and the entrance just as difficult to spot, Palauea Beach is a local favorite that many visitors overlook.
A crescent shaped beach, it gets a consistent and gentle wave that appeals to both swimmers and beginner boogie boarders.
Don't be put off by the private condos surrounding the beach. It's still public access, and worth the effort to find.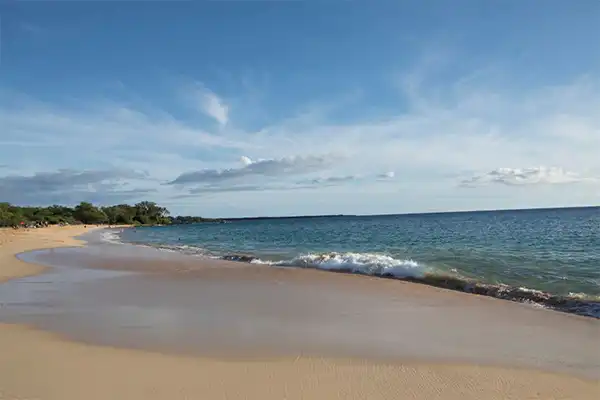 Keawakapu Beach
Sitting somewhere between Kihei and Wailea, Keawakapu Beach is where you start to see the beauty of the coastline come to life.
Swimming conditions are excellent, as throughout the day, the waves stay quiet. Growing in popularity, Keawakapu still doesn't attract the same levels of crowds as the nearby resort beaches.
Serious swimmers should head to Keawakapu, and try to lap the length of the beach. It's a long one!
Makena Landing Beach
Makena Landing Beach isn't ideal for those who want to swim laps, but if you're looking for a quiet place for a relaxing swim, it's ideal.
A small sandy area quickly opens into large, calm waters, bordered by rocks on either side. Snorkelers love Makena Landing Beach, but it's also popular with keiki, who enjoy the gentle entry giving way to quiet waters.
Kalepolepo Beach
Kalepolepo Beach is generally overlooked by visitors looking for a day at the beach, but they're missing out on a surprisingly lovely spot.
Calm waters, particularly in the enclosed sea area, are fantastic for serious swimmers, while the gently sloping entry will appeal to children.
It might not have the crystal clear seas you expect to find further south, but the relative solitude does make up for it.
Other Maui Swimming Beaches
Baby Beach
The North Shore of Maui largely isn't great for swimming. It's better known as a surfing coastline, and thick swells can leave swimmers feeling a little churned up.
For the most part, if you want to swim on the North Shore, you should check conditions before you go.
However! Things are completely different at Baby Beach. Baby Beach is a protected lagoon, just outside Paia.
An exposed reef that connects to the main sand creates the calm lagoon, and prevents the major swells that hit much of this coast. For kids that love to swim, Baby Beach is paradise.
Hamoa Beach
As with the North Shore, there are very few beaches on East Maui that are good for swimming. Hamoa Beach is something of an anomaly.
It's the kind of beach you expect to find on a postcard, with silky sand surrounded by lush growth. In summer, the water at Hamoa Beach tends to be quiet, before waves pick up over winter. 
Final Thoughts: Keep An Eye On Conditions
The winds on Maui are excellent at cooling down the tropical sun, but they also cause some heavy currents. Any beach on Maui can change from gentle to wild in the course of an afternoon.
The best swimming beaches are those that feel the wind less, but it always pays to keep an eye on the conditions.