The coastline of South Maui is packed with impressive snorkel beaches and destinations.
It gets better the further south you go: the poor visibility of North Kihei gives way to the clear seas of Wailea, and the wild underwater landscapes of Makena.
Find the best places to visit, and where to rent your snorkel equipment, with this guide to snorkeling South Maui.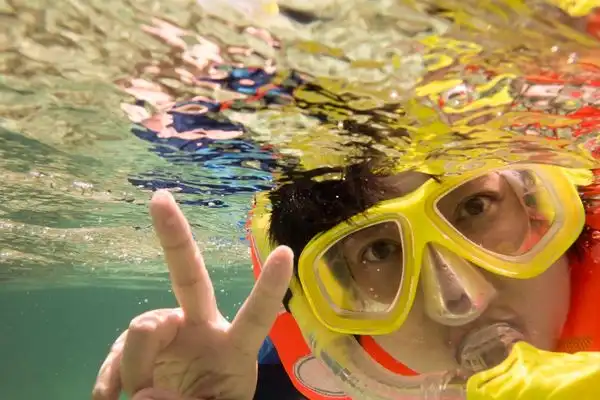 Best Places To Snorkel On South Maui
Maluaka Beach (aka Turtle Town)
Maluaka Beach is perhaps better known for its nickname, Turtle Town, chosen because of the high number of Hawaiian turtles spotted around the beach.
Near the entrance to Makena, Maluaka Beach offers a chance to discover turtles in their natural habitat. Head to the far south of the beach for the very best snorkeling, and a good chance to see the turtles.
Ulua And Mokapu Beach
You can often see SCUBA lessons taking place at Ulua Beach, as this Wailea location provides a close to shore reef with a deep turtle cleaning location.
Snorkelers should head to the shallower reef, and enjoy exploring the rocks that separate Ulua from Mokapu. Try swimming from beach to beach to really discover the reef, or take the coastal boardwalk for an easier journey.
Makena Landing
Makena Landing is really easy to overlook from the road, because the beach itself doesn't look like much.
However, this small sandy area opens out into a wide and relatively calm bay, with rocky walls that attract many marine creatures.
The sand slopes gently into the water, making Makena Landing very appealing to families with young kids. And with parking right by the beach, you won't have to carry armfuls of snorkel gear down winding beach paths.
Kamaole Beach Park II
You can try snorkeling at all three Kamaole beaches, but Kam II is definitely the premier snorkel beach.
Visit early in the morning for quiet waves that allow you to explore both ends of the beach, and hopefully avoid the crowds.
If you're staying in a Kihei condo, a trip to Kam II is one of the best ways to start the day. It's very popular with families, so make sure to bring the keiki.
5 Graves/5 Caves
The underwater landscape at 5 Caves makes this a truly exceptional scuba diving destination. The beach itself is small and rocky, but the marine life is incredible.
Snorkelers should stick close to shore, and try exploring the curves and craters of the coastline. Advanced divers might want to venture out a little further, and discover the caves that give the area its name.
Deep underwater, these caves are for experts only. 
Wailea Beach
Wailea Beach may not have the sheer number of marine creatures you can expect to find at other South Maui beaches, but it definitely wins when it comes to convenience.
At the heart of Wailea town, Wailea Beach is easily accessible from all the major South Maui resorts, and is loaded with facilities. Turn up early for the best chance to get quieter waves.
Polo Beach
Another resort beach with easy accessibility and decent snorkeling, Polo Beach fronts the Fairmont Kea Lani. Head to the north end of the beach, for good visibility and plenty to discover.
Polo Beach can get busy due to the proximity of the resort, but you can expect to find clear seas and a decent sized car park. A great place to snorkel if you're looking for an easy, and child friendly, trip.
Ahihi Kinau Reserve
Formed by the lava flows of Haleakala, Ahihi Kinau Reserve has a rugged coastline with dips and contours attracting many forms of marine life.
And as part of a nature reserve, this area is still relatively untouched. Beginners will find abundant marine life close to the shore, but advanced snorkelers should head further out for the real riches of Ahihi Kinau.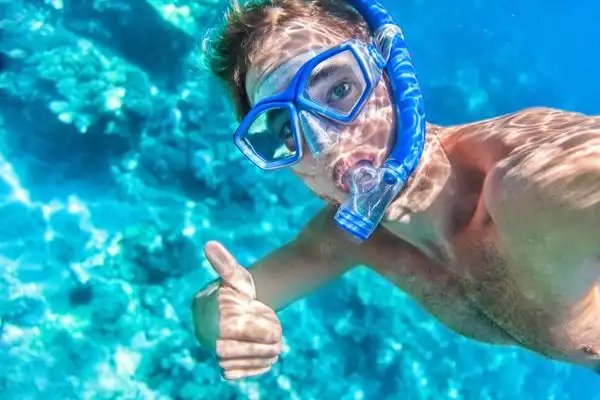 La Perouse Bay
La Perouse Bay is right at the end of South Maui, as the road stops and the landscape begins turning untamed.
This spot is for experienced snorkelers only, as the waves close to shore can be tough to navigate, splashing against partly crumbled lava rocks.
Get past this, and you have a delightful reef to explore. Less advanced snorkelers should stick to dry land, and try spotting the dolphins that are often found in the bay. 
Bonus: Molokini Crater
Molokini may not be exactly on South Maui, but this crescent shaped island is close enough that we think it's worth a mention.
You'll have to book a boat tour to get there, but you'll be rewarded with calm seas that are absolutely teeming with underwater wildlife. Many boat tours finish with a stop at Turtle Town, for two incredible snorkel trips in one.
Renting Snorkel Gear On South Maui
South Maui is known for its numerous, easily accessible snorkeling beaches, so you'll find plenty of places to rent snorkel gear nearby.
Boss Frog offers high quality snorkel gear with expert advice for beginners. Or try Snorkel Bob, for dive and snorkel rental for people of all ages.
Another great option is Auntie Snorkel. Alternatively, ask at your resort, hotel, or condo, to see what they might have available. 
When Is The Best Time To Go Snorkeling On South Maui?
Across South Maui, the best time to go snorkeling is in the morning. The winds pick up as the day goes on, increasing the power and frequency of the waves.
Heavier waves make for worse visibility, so you might not spot a honu even if it swims past your face. Stronger currents can also make snorkeling dangerous, particularly if you're exploring the rocky coastline.
An early morning not only helps you beat the waves, but you might be able to beat the crowds.
Beaches such as Wailea and Ulua are incredibly popular, and an early wake-up gives you a better chance of enjoying some space in the water. 
Final Thoughts
From shoreline snorkeling to advanced dives, the underwater landscape of South Maui offers a lot to explore. We hope this guide will help you plan your South Maui snorkel trip!